I love finding new ways to use old standard ingredients, and what could be more standard than chicken and rice? This dish is going to make you find new places to shop, try new ingredients, and discover new flavors. I know it looks like a lot of work sorting out the details, but I promise you two things; First, it's not as complex as it looks at first glance. I made this today in about an hour. Second, whatever it takes, it's worth it.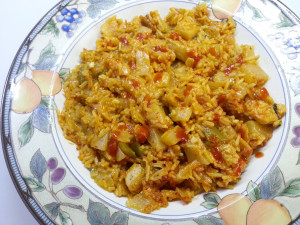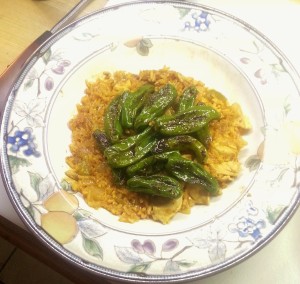 Please continue and read the recipe. I think you will find it worth every minute.
First, I know some of you will read this recipe and see that it contains kimchee, (Kimchi, Gimchi) and immediately be put off because you have heard various bad things about kimchee; "It's Korean sauerkraut, it's fermented cabbage, it stinks awful, and tastes worse!" NONE of that is true, and when you use it in a dish like this, it adds a wonderfully complex layer of spice and umami that just can't be found any other way. Be brave, give this a try and then, if you don't like it, feel free to beat me up in the comments section!
Second, as with all these kinds of recipes, you have a free hand to improvise and change the proportions and add and subtract ingredients based on what you have on hand or what you especially like. This dish, for instance, changes subtly if you add a chopped leek after you sauté your onions, or add chopped bok choy for a little crunch. It's up to you, but don't leave out the kimchee, because it IS a foundation flavor in this dish, and it's just not the same without it. (Also, sincere apologies to anyone offended by the term "Kaffir" as it is considered a slur in many countries. Here, I only use it because that IS the most common name for that particular fruit and often what the item is known as when you look for it in the store. It is also known as the Makrut Lime)
Lastly, as to where to find the kimchee and the Gochujang. Both are staples in Korean cooking and if you can find even a small Korean grocer in your neighborhood, they will certainly have both of these items. If you are in the Phoenix valley, Seoul Market at Olive / Dunlap and 43rd Ave (8935 N 43rd Ave) is the go-to place as far as I'm concerned. Best quality and variety of kimchee I have ever found; hand made on the premises, and distributed valley wide out of this tiny store. Worth the trip!
So, without further comment, here is the recipe for you!
Korean Gochujang Chicken & Rice
Ingredients:
2 large chicken breasts
1 ea. medium yellow onion
1 ea. green bell pepper
6 cloves fresh garlic
1 tsp sugar
1 ½ cups Korean cabbage kimchee
1 cup Korean radish kimchee
2 cups chicken broth, low sodium
1 pinch saffron
2 tsp fish sauce
2-3 Tbsp. Gochujang paste (to taste)
1 Tbsp. fresh lime juice
1 ea. Kaffir lime leaf, large (find in any good Oriental Market)
1 cup Basmati rice
½ tsp smoked paprika or liquid smoke
2 Tbsp. garlic olive oil
2 Tbsp. olive oil or coconut oil (according to taste)
1 Tbsp. fresh cilantro, chopped
fresh ground pepper
kosher salt
Directions:
Clean, trim, and prep chicken breasts. Cut into bite sized cubes.
In a stainless steel bowl, toss chicken cubes in 1 Tbsp. garlic oil, a healthy grind of pepper, and a pinch of salt. Refrigerate.
Measure out your chicken broth and add the saffron and fish sauce into it.
Peel onion, cut into large dice. Set aside.
Clean pepper, cut into large dice. Set aside.
Peel garlic, chop fine. Set aside.
Slice both types of kimchee into medium dice pieces. Set aside.
In a large Dutch oven, heat remaining garlic oil and olive or coconut oil on medium high heat.
Toss in the diced onion and sweat for 60 to 90 seconds. Sprinkle in the sugar.
Add in the diced pepper, and a sprinkle of kosher salt, and sauté for 5 minutes, stirring frequently. When onion bits begin to brown slightly, add chopped garlic, sauté for 60 seconds.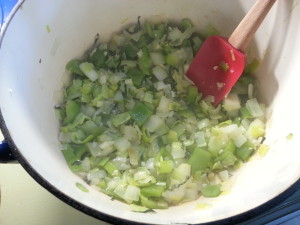 Add in the kimchee. This will cool your pot. Stir, and wait until the mixture sizzles again. Sautee for 2-3 minutes, stirring constantly.
Pour in the chicken broth, and add Gochujang paste, lime juice, smoked paprika (or liquid smoke) and lime leaf. Mix thoroughly.
Wait for mixture to come to a gentle boil, add in the Basmati rice, lower the heat to medium low, and put a lid on it. Set a timer for 15 minutes, and do not lift the lid in the meantime.
In a large non-stick skillet, heat 1 Tbsp. olive or coconut oil over high heat. Just as it begins to smoke, add the cubed chicken. Let the sides of the cubes brown, but not burn, stirring and turning as you go.
Lower the heat, and put a lid on it. Continue cooking the chicken until the insides of the cubes are just cooked. Do not dry it out. Leave the lid on and take it off the heat. Set aside.
By now, the 15 minutes will be close to elapsed. When the timer goes off, lift the lid and stir the whole mix in the Dutch oven thoroughly. Taste the rice and be sure it is cooked through. If not, put the lid back on and give it another 5 minutes. Find and remove the lime leaf.
Once the rice is cooked, pour the entire contents of the chicken pan into the Dutch oven; chicken cubes, juices, burnt bits, et al.
Mix thoroughly, lower the heat to low, put the lid back on the Dutch oven and let it simmer for 5-8 more minutes.
Plate, garnish with a pinch of fresh cilantro, serve. For hot food lovers, sprinkle with Sriracha Sauce or Chili Garlic Sauce!
So, there you have it. Try it and let me know what you think, what you would change, and what you didn't like in the comments below.