So many things that should be really simple take a little turn and thus complicate our lives in ways that then cost us resources, mental energy, and valuable time. Each, by themselves, may not amount to much, but in today's complex, interconnected, busy world, they add up fast and raise the energy drain it takes to just stay even.
Of course, one could opt for getting off the grid entirely, or as close to that condition as possible, but the lure of technology and progress is one just too great for me to resist, so I accept, but as you can see, sometimes complain about its consequences.
Here is one such event….
Many years ago, when my little home network expanded beyond just a couple of machines, I decided that access to my files and data from any device in the house would be a desirable thing. Furthermore, as files became more important, relatively permanent storage became a priority. Hence, I purchased and installed a 1 Terabyte RAID NAS array from a company called Synology.
It met all my requirements, and had been humming along for years. As some of you might know, a RAID array's best feature is that it duplicates everything you write to it onto two (or more, depending on what RAID configuration you choose) physically separate hard drives, so if one drive fails, the data is preserved… in theory. The way it's supposed to work is that the RAID controller keeps track of the health of the individual drives, and warns you if one or the other is showing excessive defects. That warning encourages you to do an orderly shutdown of the unit, physically replace the offending hard drive, and reboot. Then, command the unit to rebuild the array from the "safe" information still stored on the other drive. There are many horror stories regarding this "seamless" process, especially when the new replacement drive is physically different in brand or size than the remaining "good" drive. Some RAID units will refuse to recognize any replacement drive if there is even a small difference between the new and remaining drives and fail to restore the data.
Two weeks ago, the red light went on! My NAS box reported a failed hard drive after many years of continuous trouble free operation. So, according to the instructions, I identified which of the two drives was flagged as failed, and replaced it with a spare that I had purchased long ago for just such an event. I rebooted the unit, and commanded a system restore. It hummed along for almost four hours, after which it acted as if nothing had ever happened. A perfect bit-for-bit restoration, exactly according to plan. THANK-YOU SYNOLOGY!
But, I wanted to obtain another replacement drive to keep as a spare in case this happened again in the near future. This is where it gets interesting.
Knowing that NAS boxes like to stay with the same physical size and configuration of drives, I needed another western Digital 1 Tb drive. I prefer their "Black" series of drives, especially because of the 5-year warranty. There is much discussion right now regarding a recent design change for that exact model, with some people accusing WD of just rebadging their 1Tb "Blue" drives, but that didn't affect my decision in this case, and frankly, if they want to warranty it for 5 years, I'm happy. I have never, personally, had a WD hard drive fail. I searched Amazon for the drive, and purchased it, although it was offered by an Amazon Marketplace vendor, not "Ships from and sold by Amazon.com", but with 2-day shipping and at a reasonable and competitive price. (Since this article was published, Amazon is now selling the same drive directly for less money than I paid.)
When it arrived in the promised 2-day timeframe, it was packaged in a few layers of bubble wrap, in a resealed static bag, and stuffed into a USPS express Mail cardboard box. The box was clean and undamaged.
I unpacked the drive, hooked it onto an open SATA port on my PC and immediately scanned the S.M.A.R.T. information. Here's what I found;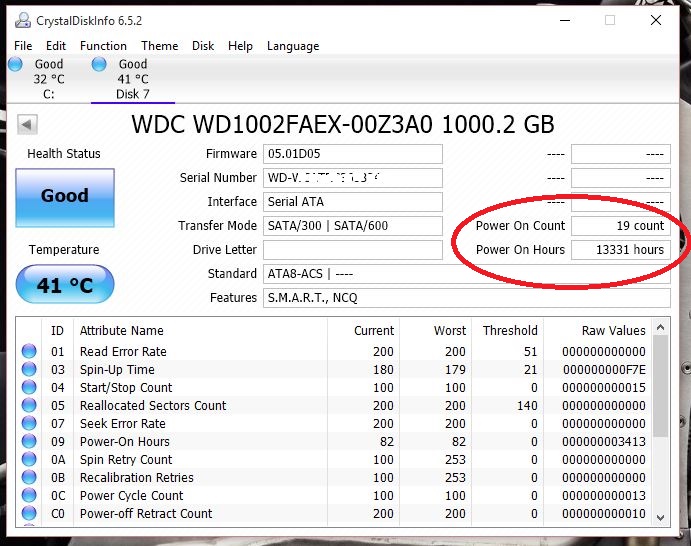 Instead of being a new drive as advertised and sold, it was an old used drive with 13,331 hours run time.
Next, I plugged the drive's serial number into WD warranty eligibility database and got this response;

The drive was sold before in a different geographical region than the United States, hence it had NO warranty, let alone the 5-year warranty that a new WD Black drive carries.
This caused me to do some more digging. A postcard sized insert in the box encouraged me to leave 5-star feedback if I was happy, and to contact the vendor via email if I was not. Before doing so, I initiated a Google street view of their physical address they had printed on the card, and found that it was a UPS Store in a strip mall in Florida. Hmm.
Immediately, I contacted the vendor through Amazon's returns process instead of by email directly as their package insert suggested. I told him of my findings that it was a used drive, when it had been advertised as new. I requested a return.

Even though this was a Friday late afternoon, I received notification within 16 hours from Amazon that they had immediately forwarded my request to the vendor, and that the vendor had instructed Amazon to refund my entire purchase price and credit it back to my card.
It has been a couple of months, and the seller has made no further contact. I have my money back, but they have not sent me a return label nor requested that I return the drive. So here, finally, are all the ethical questions that have popped up for me, and I am very interested in what you all think about any or all of them.
It seems relatively obvious to me that the seller knows, full well, that the drives he is selling are used, not new. So, I figure that he is playing the law of averages. He bets, I am guessing, that most people will receive the drive, plug it into their computer, and when it works fine and shows up in the drives list, never question what they actually received. Furthermore, he has probably purchased these in bulk as take-outs from old NAS boxes or third world market obsolete systems, so his investment is small enough that he can write off a few if the purchaser complains. What do you think about that as a business model?
I know have in my possession a drive that works, as is, that is albeit used but functional, that I did not pay for. Should I continue to use it, understanding that it has no warranty and MAY fail, but at 13,331 hours is really only a very small way into its expected service life? WD expects that these drives will operate with a >4% failure rate continuously for at least 5 years. (So, theoretically, if you ran 100 of these drives, less that 4 of them would fail in the first 5 years.) Do I keep it? Do I pay to ship it back? Do I dispose of it?
Amazon insists that their Marketplace sellers be COMPLETELY customer-centric. Too many complaints, and they will cancel you as a Marketplace seller. This stands to reason, as they back the buyer with their own Amazon based buyer protection, so even If the seller had not refunded my $65, Amazon would have, but doesn't this invite abuse from buyers?
In this case, I think the buyer WAS trying to pull a "fast one," but what's to prevent me from getting a perfectly good item that's exactly as advertised, claim that it's not what I ordered, and ask for a refund? (Aside from my personal ethics, of course.) In the case of this hard drive, HAD it been a brand new, perfect WD Black 1Tb drive, I could just SAY it was used, and get my money back. If the seller requested that I return it, and sent me a return shipping label, I could just pack up the old crashed one out of my NAS, ship it back, and INSIST that it was the one he sent me in the first place. There is no way for him to prove that it wasn't what he sent me, and I know that either he or Amazon will refund my money in the long run. Hell, I could claim that I received a brick in the box. There is NO WAY for him to prove that it's not what he shipped me. How is this fair to the sellers that ARE honest?
So, there you have it. I'm really interested in what you have to say about it all. Leave comments. Your email address will NOT be published or revealed. You can even pick a pseudonym if you like.