Steel Cut Oatmeal with A Wonderful Addition – Kañiwa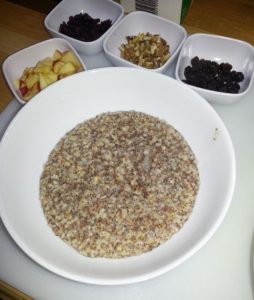 OK, I know it's hard to expect that you will all want to make some cooked oatmeal for breakfast for a number of reasons;
You were forced to eat it as a child and hated it ever since.
You have only had either "Instant" oatmeal, or plain rolled oats, or worse, (ughhh) microwaved oatmeal and they were awful.
You can't imagine taking the time to make oatmeal that takes 50 minutes, start to finish.
You don't know what Kañiwa is and you're not into eating stuff you don't know.
BUT, I am here to expand your horizons, make you more healthy, and experience something new and delicious.
What follows is a recipe with some pictures that will take a while to prepare, but isn't labor intensive. While it's cooking, you can read the Sunday paper, check your email, or just enjoy a leisurely cup of coffee watching the sun rise. But, please give this a try; that list of reasons above will melt away with every bite like butter on a hot griddle.
So, continue reading for the whole story….
Steel Cut Oatmeal with Kañiwa
Ingredients
4 cups cold water
1 tsp salt
¾ cup steel cut oats
¼ cup Kañiwa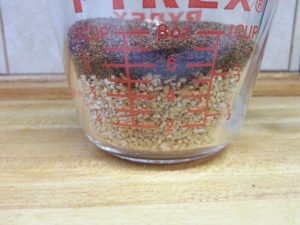 ¼ cup crushed walnuts
¼ cup California raisins
¼ cup Craisins (dried cranberries)
¼ cup apple sauce (no added sugar)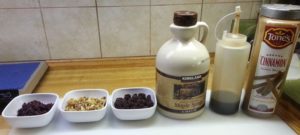 1 Tbsp. vanilla extract
2 Tbsp. real maple syrup
2 tsp cinnamon
4 oz Half & Half
4 Tbsp. Greek plain non-fat yogurt
Directions
In a medium saucepan with a snug fitting lid, bring water to a boil over high heat and add salt.
Pour in the steel cut oats and the Kañiwa, and stir gently until well mixed.
Lower heat to lowest setting and cover saucepan and allow to simmer for 10 minutes.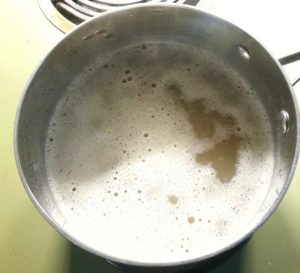 Lift lid and stir thoroughly, making sure nothing is sticking to bottom of saucepan and that the heat is causing just the gentlest of bubbling.
Replace lid and simmer for 10 more minutes, then stir thoroughly again.
Repeat, 10 minute simmer-and-stir twice more, for a total of 40 minutes of simmer time.
Remove from heat, and fold in all of the condiment ingredients and mix thoroughly.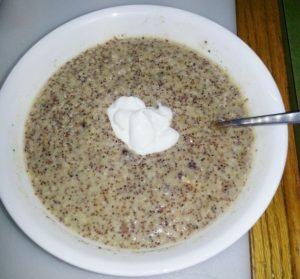 Serve in individual bowls with a dollop of yogurt on top.
Kañiwa
Technically, this is a seed native to the Peruvian Andes, that cooks like a grain. It is a nutrient powerhouse, rich in anti-oxidants, fiber, iron, calcium, zinc and a healthy amount of fiber. It is completely gluten free, and gives this oatmeal a very nutty and naturally earthy flavor. Some suggest that it can be used as a replacement to oatmeal if cooked 2 to 1 with water, but I have tried it alone, and I prefer it as an addition to oats rather than a substitute.
Although it is often confused or associated with Quinoa, they are two entirely different foods, and Kañiwa is even more nutritious and, in my opinion, has a richer flavor.
I recommend that you buy some at your local Sprouts or Whole Foods Market in the bulk section, rather than the pre-packaged boxed stuff you get online. It's less expensive that way, and in my opinion, better quality. Stored dry in a tight container, it keeps for a year or more.
Same for the steel cut oats, by-the-way. Better in bulk, and less expensive, but I will also recommend the Bob's Red Mill Organic Steel Cut Oats that you can buy online, if you are so inclined.
Let me know in the comments below if you try this recipe and how you like it. Make sure you force your kids to eat some too! ;-0