OK, I'm a real geek when it comes to having stuff work right. People who know me also know that I will pay extra money to get an item that does a job perfectly, something that is the epitome of its designed function. Like many of you, I hate stuff that just barely works, is the minimum that some designer or manufacturer could get away with, or is built so that it just lasts until the warranty runs out. The frustration of spending money for an item you "have to put up with," is just too much for me.
So, although I promised myself that I wouldn't start posting articles that make me look like I'm selling a particular item or brand, or that I am perceived as a shill for a particular company, I have found one line of products that I feel so positive about that I just have to detail it here. Let me tell you what happened…
Years ago, I purchased a typical consumer quality, "big box" store hose reel for the wall next to the garage door in order to store the hose that I primarily used for car washing and hosing down the driveway after doing a messy car repair. That hose reel, made of "resin" mounted to the wall with concrete anchors, had, as you would expect, a reel with a handle upon which you could wind the hose after you used it. After a short time, it began to drip from the hose swivel at the reel whenever it was under pressure, but it was minimal, so I "put up with it." Also, as you might expect, the Arizona sun ate the resin plastic in about 18 months, and it developed a million surface cracks and then finally just broke apart.
That started me looking for a more permanent replacement. In my search, I stumbled upon a company that was, back then, called RapidReel, now called Eley Corp. (www.eleyhosereels.com) that offered an all metal, powder-coated wall mounted hose reel with a 10 year warranty. Needless to say, it wasn't cheap. But, based on their customer feedback and that 10 year warranty, I bought one. After owning it for a while, I bought another one (a hose cart with wheels) for the back yard hose by the pool, then after a while, one of their portable models (floor standing) for the hose for the pressure washer, and finally, just recently, one for the watering hose by the back gate.
In the meantime, I have also purchased their watering nozzle which is a huge hunk of solid brass with an ingenious method of adapting different spray nozzles onto it, their jet spray cleaning nozzle, which is also amazingly robust, and their absolutely stunningly simple but virtually indestructible quick connect kits. So far, everything I have bought from them is built to last a lifetime, satisfies its design intent perfectly, and is a joy to own. I've started giving some of their watering accessories as gifts to friends who appreciate good design as much as I do. I know, by now you are wondering, "Just how expensive is this stuff?" Well, as I often say about good stuff, "It ain't cheap!" but in this case I firmly believe it's worth every penny just for the satisfaction you get from using something that was intelligently designed and built to last.
So, what's this particular story actually about? Attitude! The company's attitude when it comes to their customer's satisfaction. Here's what I mean, but first, you need a little bit of background. My pressure washer uses a LOT of water when you run it balls out! Uh oh! I have to digress for a moment. Some of you might just have been offended by the use of the technical term; "balls out." I assure you it is a bona fide technical term.
It is a term coined from the era of giant stationary steam engines with huge flywheels that were used to power entire buildings of machine tools using ceiling mounted jackshafts and wildly dangerous leather belts, or to run huge water pumps or electrical generators. As many of these engines were single, or at most, twin cylinder, they required massive cast iron flywheels to retain momentum between power strokes. These flywheels, many weighing thousands of pounds, necessarily had strict limits to their maximum rpm, as centrifugal forces could cause them to fly apart with lethal consequences if they were allowed to over-speed. Hence, the operation of these steam engines was typically strictly governed by a clever centrifugal steam valve that would meter steam into the engine proportional with the engine's speed. As the engine approached its designed top speed, this valve, typically rotated by a gear off the main crankshaft, would start to throttle the amount of steam fed to the engine. The engine, consequently, would slow down. If a load on the engine resulted in too slow a speed, the valve would open further and feed more steam, and speed the engine back to its designed speed. These centrifugal speed control valves called " ball governors" looked like this;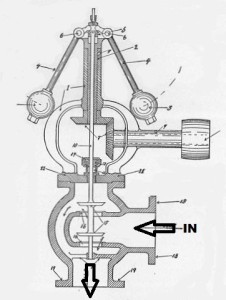 As the engine sped up, the heavy cast iron balls at the ends of the rotating arms near the top would swing out from centrifugal force, push down on the rod in the center and close down the steam feed valve near the bottom of the picture thus slowing the engine. Hence, when the engine was running at top speed, it was said to be running… balls out!
By-the-way, if the valve in the governor somehow jammed open and the engine just kept running faster and faster, the centrifugal force could cause the swing arms to break and release the balls, leaving the engine completely uncontrolled. This was disastrous, and could result in sudden and catastrophic mechanical failure and death to any and all nearby operators. The technical term for this potentially fatal condition was… "balls to the wall!" But, as they say, I digress. Back to the "perfect" hose reel, the pressure washer, and the improvement on perfection.
I had said that my pressure washer is one water-hungry beast. Hence, I needed a big 3/4″ feed hose to make sure it doesn't starve and overheat the pressure pump. For convenience, I ordered a floor standing reel from Eley Corp., their 3/4″ polyurethane hose, and their absolutely awesome 3/4″ full flow quick connect coupler set. Man, that setup can feed some water!
But, there was just one little annoying problem with that setup. When you use a full 3/4″ hose on an Eley hose reel, the end of the hose that connects to the center swivel on the reel has to make a pretty tight "U" turn to get into the center of the reel. Eley gives you an internal stainless steel spring to keep the hose from kinking, but it's just not as elegant as it should be. Now, I assure you that it works, as I have been using that particular setup for a while with no problem, except that the hose sticks out a little from the diameter of the reel and makes it harder to wind up. Here is a picture of another 3/4″ hose and Eley reel that I have wall mounted, and you can see the bend that the hose has to make at the center.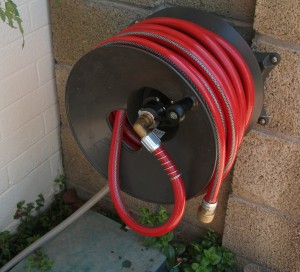 So, I emailed Eley about it. Within a day, I received a reply from Scott Jelinek, Eley's Customer Service Director, offering me a solution. Eley engineers, having had this concern expressed by other customers, designed and built a full 3/4″ flow, stainless steel "U" shaped adapter for 3/4″ hose installations. He sent me a couple, and I installed them as a trial. Here's the "after" picture of one of them.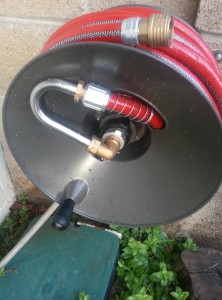 So, in response to customer concerns, they designed a "fix" that was adaptable to all their hose reels back to the first one I bought 10 years ago, and maybe farther. They sent me a couple to try out to see if they would work for me, before they were actually released to the public. I guess I was a beta tester! 😉 (I subsequently purchased 2 more so that I could have one on every reel because they work so amazingly well and extend the life of my expensive hoses.) When I did order the other two, they had a "Summer Special" that got me another of their incredibly useful Quick Connect kits for free, and offered free shipping. Here are pictures of the female and male ends of the quick coupler. The male end has the required "O"-ring to seal it, so it's not buried down inside like many other manufacturer's designs of quick hose couplers. So, you can easily replace it when it leaks years from now in a few seconds. Add a glob of silicone grease, and it's good as new. You have to heft one of these couplers to appreciate it. It's 3/4″ through and through, even on the male end, so it offers no additional flow restriction to a 3/4″ hose.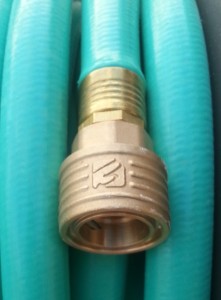 So, yes, I'm gushing. Their products never fail to impress me, they work as designed, every time, for a long time, and they respond to customers individually and with great care and concern. All their stuff is "overbuilt," mostly heavy brass or corrosion free, powder coated aluminum. Their designs are simple to install and maintain, the reels are smooth and easy to clean and lubricate periodically, and they stock spare parts if you ever need them. The reel above is holding 100 feet of 3/4″ heavy duty hose. If you order a reel, some assembly is required, but they even give you the tools you need to assemble the entire reel. (They even include masonry anchors and lag screws for the wall mounted ones, but not, of course, a drill motor and masonry drill bit.)
Check out their website and their products if you are a homeowner tired of wrestling with cheap junk when you need to use a hose for something.
Disclaimer – I received 2 of the "U" shaped pipes from Eley to try out before they were generally available. Other than that, I received no compensation for this article from anyone. Over the years I have purchased 4 water hose reels, numerous watering accessories, and one, now discontinued air hose reel from Eley Corp., all of which still work perfectly for me.