This is a really simple recipe that even makes its own BBQ sauce with a little extra effort at the end. If you like pulled pork, carnitas, shredded pork tacos, BBQ pork, etc., this is an easy way to get there.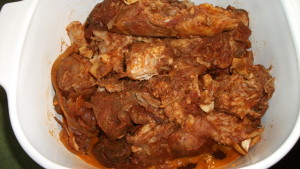 Ingredients:
5 lb. Pork Shoulder in 3" cubes
2 cans Hunts tomato paste (6oz)
1 Tbs. Kosher Salt
1 Tbs. Ground cumin
1 Tbs. Smoked paprika
2 Tbs. Chili powder
2 oz. Fresh lime juice
3 oz. Fresh orange juice or 2 Tbs. Apple Cider Vinegar
2 Tbs. Dark Molasses
1 lg. Onion, ¼" slices
1 Tbs. Brown sugar
8-12 ea. Garlic cloves, coarsely chopped
Method:
In a very large bowl, combine tomato paste, salt, cumin, chili powder, paprika, and lime and orange juice (or vinegar) and molasses. Mix thoroughly.
Add the meat, and toss to coat meat with the tomato paste mixture.
Lay onion slices into the bottom of the slow cooker, covering as much of the bottom as possible. Sprinkle with sugar.
Toss half of the chopped garlic into the bottom of the slow cooker. Add all of the meat, scrape the remaining tomato paste mixture out of the bowl and onto the top of the meat, and toss the rest of the garlic in too.
Set the cooker on LOW for about 5-6 hours until the meat is simmering in a large quantity of liquid and is fork tender. Be careful, some slow cookers produce a little too much heat, even on LOW, so if after about 4 hours, the liquid in the cooker is boiling instead of simmering, turn the cooker off for a while. Wait for it to stop boiling and then turn it back on until it simmers. Repeat this cycle as needed.
Remove the meat and cooked onions from the cooker, and transfer all of the remaining liquid to a medium saucepan, as a base for some homemade BBQ sauce. You can use it like a gravy or add (any or all of) a little more brown sugar, some apple cider vinegar, cayenne pepper, molasses, bourbon, smoked salt, smoked paprika, liquid smoke, orange juice, a sprig of rosemary, strong coffee, Dijon mustard or whatever else you might like in your BBQ sauce. Simmer the liquid to about half its original volume tasting as you go, until the BBQ sauce is to your liking.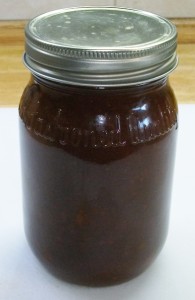 Pig out!