For my first cooking post, I'm going a little out on a limb, considering the main ingredient. You see, it's a food that doesn't have a very favorable reputation among average diners. Most people I have talked to about it said that they were put off by the smell, and because of that, never tasted it. Well, this recipe mellows both the smell and the taste, elevating it to new heights on the palate.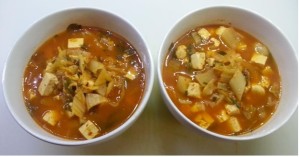 Click the link in the full article below for the full recipe.
Ok, "So what is it?" you ask….. It's Kimchi (Kimchee, Gimchi) WAIT!, before you move on without a second look, TRUST ME, this recipe might just change your mind. This is a recipe for Kimchi Soup.
Let me add a few important comments, please. If you do any kind of PacRim cooking, you will likely want to experiment with additional flavorings. Kaffir Lime leaf (sincere apologies to anyone offended by the term "Kaffir" as it is considered a slur in many countries. Here, I only use it because that IS the most common name for that particular fruit.) It is also known as the Makrut Lime. Toss in one leaf while the soup is cooking and pull it out before you serve it. Add a little finely minced lemon grass, ginger, cilantro, or galangal. Each of these, alone or in combination, changes the character of this soup.
Second, additional options include adding some radish kimchi, which lends both a nice spicy flavor and some interesting texture, chopped bok choy, which really cooks up beautifully, almost creamy in texture, or a pinch of saffron, which enhances both color and flavor.
Next, for those who eschew tofu, leave it out! Put this soup over a bowl of rice noodles, buckwheat noodles (Soba), or even cooked rice. Or, eat it without any of those.
Lastly, you'll see an odd ingredient in the mix; Spiced Garlic Stems. I get them at the same Korean grocery where I buy my kimchi, Seoul Market, just South of Olive Avenue on 43rd Ave, (8935 N 43rd Ave) here in Phoenix. If you are local, that's the place to go!
These wonderful people make and package their own kimchi and a huge variety of other spiced and / or fermented products. But, if you can't get there or can't find the garlic stems elsewhere, just put in an additional thinly sliced clove of fresh garlic.
So, there you have it! The chili garlic sauce mostly controls the "heat," so ease up if you like a milder flavor. If you're like me, you'll add a little more! Make a big batch, store the leftovers in the fridge for the next day. Its flavor improves even more with a little rest.